Carp fishing at Evesbatch old lake, Herefordshire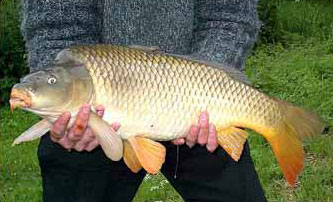 Evesbatch Old Lake is ideally situated in a quiet corner of Herefordshire near Bishops Frome. The village of Evesbatch lies on the border between Herefordshire and Worcestershire. It is perfect for the carp angler who does not require the conveniences of a typical commercial fishery and loves to be at one with nature and the true beauty of our countryside. The wildlife is amazing and the night sky is crystal clear. Expect to see snakes, kingfishers, bats, water voles, badgers, deer, newts, frogs, etc!

It's usually quiet all year round but you might get held up by sheep herders on the way here! The fishing is famous at Evesbatch due to the quality of the water, the strength of the fish and the impeccable condition of the fish.

Evesbatch old lake provides fishing permits for the angler who wishes to fish day or night, from a simple day fishing session, to a week long affair. Resident carp run to 25lb and there are some lovely roach, rudd, tench, perch and eels for the non-dedicated carp angler. The lake is 2 acres in size and in excess of twelve foot deep in places.
There are ten pegs and parking space for up to ten cars. The lake has recently undergone extensive development work, and vehicular access is now possible to the near bank from pegs 1 to 4. Although it is recommended that a maximum of only four vehicles park on that bank, dry weather only. Cars only. Bring a pair of wellies if it's been raining heavily, and of course, don't park on the near bank if it's saturated with water... you're going to get stuck.. Of course, it won't affect the fishing!

The carp fishing at Evesbatch old lake is very consistent throughout the year although a lull is to be experienced around April or early May due to spawning. The best times of year to come fishing at Evesbatch are June to November with the largest carp caught on the surface with freelined bread. Day fishing permits at Evesbatch start from only £5 per person; a truly affordable venue with a large and dedicated following. Roach and rudd can be easily caught all year round so if you're not a dedicated carp angler, you'll feel at home.
The carp at Evesbatch old lake range in size from half a pound up to a reputed 28lb but most are around the 4 - 12lb mark and the smaller carp often put up a longer fight than the larger carp. Roach go to 2lb and there is a rogue Pike which is around the 10lb mark. You'll catch all day long using luncheon meat on a simple ledger rig, floating bread on the surface is a good approach if the roach don't ruin your plan first! If you're planning on using boilies, the fishy flavoured ones do well. You'll even catch using cheese. The carp are all in excellent condition and you'll apreciate that we keep things that way due to no matches and no reckless anglers.

Evesbatch old lake is a safe vanue for disabled anglers due to very easy access to the dam wall. If you have any questions about the venue, please use the contact form to send us an email and we'll get back to you asap. Happy fishing!

---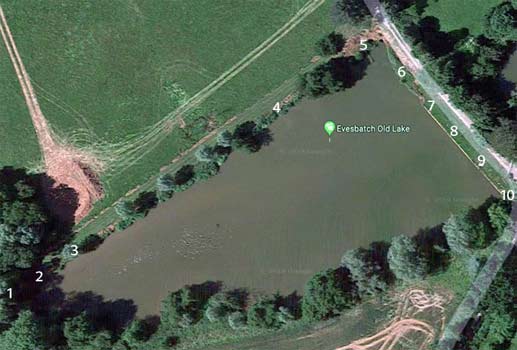 Evesbatch Old Lake is located just off the A4103 Hereford to Worcester road, midway between the two cities. Leave the A4013 at the signed exit, "Evesbatch," and continue until you reach a left hand turn, over a small bridge signposted "Evesbatch". Continue up the steep hill for 100 metres and take the sharp left hand turn opposite the church.