Carp fishing at Evesbatch old lake, Herefordshire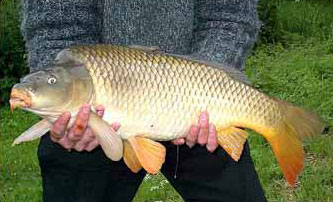 Due to the advice given by the Government yesterday, there is now a restriction on the number of people allowed at the lake.
There will be no more than 2 people allowed at the lake at any one time and a maximum of 2 until further notice...
Evesbatch Old Lake is ideally situated in a quiet corner of Herefordshire near Bishops Frome. Bishops Frome lies on the border between Herefordshire and Worcestershire. It is perfect for the angler who does not require the conveniences of a typical commercial fishery and loves to be at one with nature and the true beauty of our countryside.
We provide fishing permits for the angler who wishes to fish day or night, from a simple day session, to a week long affair. Resident carp run to twenty pounds and there are some lovely roach, rudd, tench, perch and eels for the non-dedicated carp angler. The lake is 2 acres in size and in excess of twelve foot deep in places.

There are ten pegs and parking space for up to ten cars. The lake has recently undergone extensive development work, and vehicular access is now possible to the near bank from pegs 1 to 4. Although it is recommended that a maximum of only four vehicles park on that bank, dry weather only.
---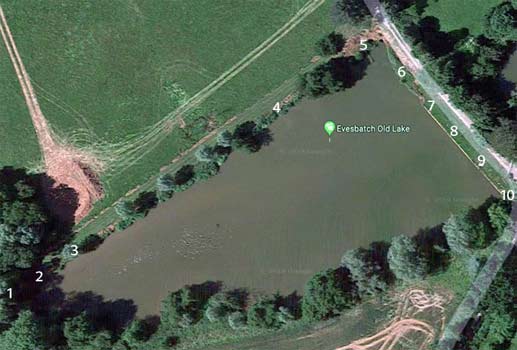 The Old Lake is located just off the A4103 Hereford to Worcester road, midway between the two cities. Leave the A4013 at the signed exit, "Evesbatch," and continue until you reach a left hand turn, over a small bridge signposted "Evesbatch". Continue up the steep hill for 100 metres and take the sharp left hand turn opposite the church.